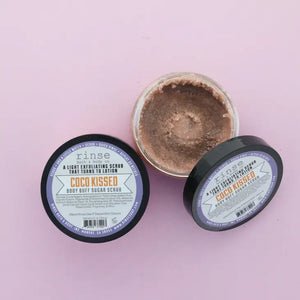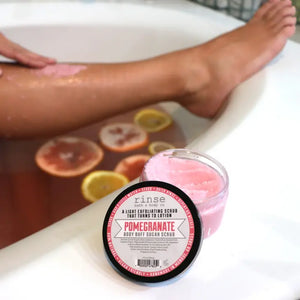 Body Buff Sugar Exfoliating Scrub
The Rinse Body Buff Sugar Exfoliating Scrub exfoliate your skin and leave behind a nice light lotion-y feel (not oily, greasy or gunky).
Available in two scents: Coco-Kissed - a beachy scent that will make you feel like you're getting a tan with a nice drink in your hand! With the warm scents of the beach and a soft vanilla undertone. 
and Pomegranate - A light sweet fruity scent that's a tad tart at the finish. 
A little goes a long way with this scrub. The oils and butters in the Body Buff Scrub will actually change into a nice light moisturizing lotion on the skin. 
The Body Buffs are a blend of Sugar, Shea Butter, Fractionated Coconut Oil, Sesame Oil along with a blend of vegetable-based Emulsifying Wax, Fragrance Oil Blend & a Paraben-Free Preservative.
88% Natural Vegan-Friendly, Gluten-Free 4 oz. jar