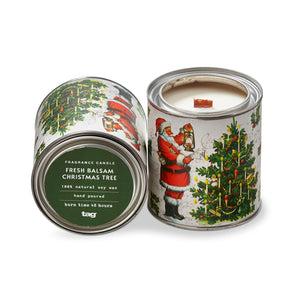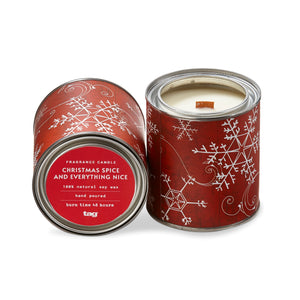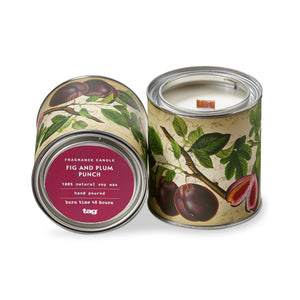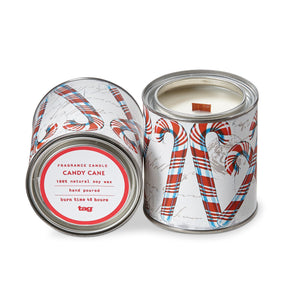 These handpoured candles are made with 100% soy wax and a wooden wick that crackles as they burn. Available in two different tin designs and scents:
Fresh Balsam Christmas Tree Tin: In a very festive metal tin with a lid with Santa and a Christmas tree. The fragrance features notes of pine, bergamot, citrus, pineapple, artemisia fruit, carnation, strawberry, raspberry, rosewood, cedarwood, wood, cinnamon, spice and musk.
Cinnamon Spice and Everything Nice Tin: In a red tin with snowflakes. Features fragrance notes of cinnamon, red hots, sugarcane, buttery popcorn, salted caramel, vanilla, malt and crushed clove.
Fig and Plum Punch: In a festive plum and fig tin, featuring fragrant notes of green, fig, fruity, floral, freesia, rosewood and almond.
Candy Cane: In a candy cane tin, featuring notes of buttermint, white mint leaf, amber veil, chocolate shavings, peppermint, and vanilla bean. 
Burn time 48 hours.
Dimensions: 3.5 in H x 3.2 in D