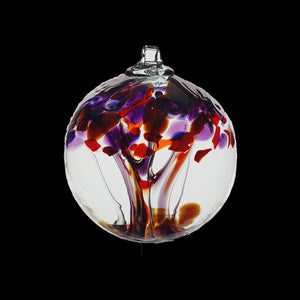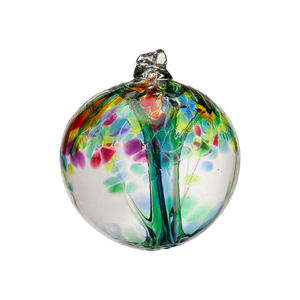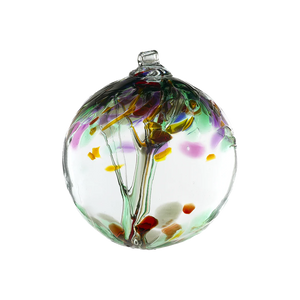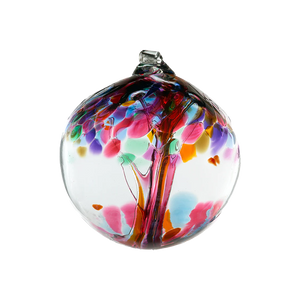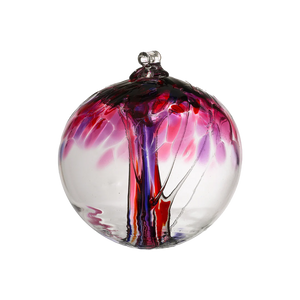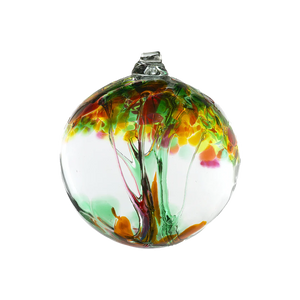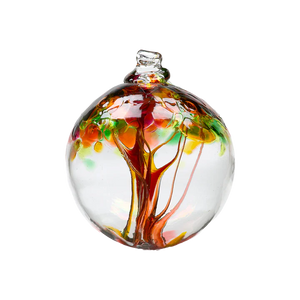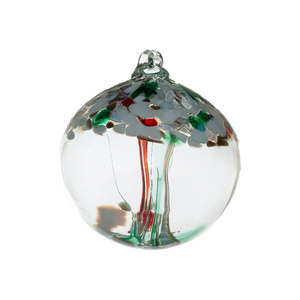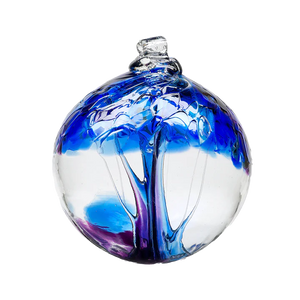 Tree of Enchantment Collection
The Tree of Enchantment Collection is Kitras Art Glass' signature creation. The glass "leaves" cascade across the top of this hanging orb and the "trunk" webbing is pulled through the interior from bottom to top.
2" Tree: width: 2.5 inches, height: 2.5 inches, height with hang loop: 3 inches
Read below for the various design stories:
The stories: Like a tree in a storm, we are sometimes tossed, battered and pushed to our limits. Nevertheless, we dig deep, hold on or fight back, even when the odds may be against us. The Tree of Courage reminds us that we can all be courageous, weather life's storms and come out stronger.
There is no greater comfort in life than the unconditional love and support of family. Like the roots of a tree, family nourishes and encourages us to grow to limitless possibilities. The Tree of Family reminds us that no matter how far we branch out as individuals, our family is always there for support, for encouragement and, above all, for love.
Just as a tree undergoes changes as it grows from a seedling to maturity, our lives are full of unique and important people and moments that define us as individuals. The Tree of Remembrance encourages us to treasure each of life's moments and cherish the memory of people and places that are near and dear to us - the children, the friends, the parents and the occasions that create the mosaic of our lives.
Like each leaf on a tree, our life is blessed with friends who help to define us as the individuals we are. Similarly, the changes of season that a tree undergoes are like the circle of friends we've met throughout our lives - from our school days to more mature relationships. The Tree of Friendship reminds us to cherish each of our friends, the old and the new - and ensure that these important bonds are never broken or forgotten.
Faith is based on a set of deep-rooted beliefs we use to guide us through times of uncertainty. Just as the branches of a tree reach and grow, faith drives us to stretch beyond our means to undertake extraordinary feats. The Tree of Faith reminds us of the power we hold within ourselves to achieve that which seems impossible.
There is no greater gift in the world than the gift of love. Like a tree, love grows stronger and more beautiful with time. The Tree of Love represents the countless blessings that love brings into our lives.
Just as it takes time for a tree that has lost its leaves to rest over the winter and regenerate to its springtime glory, it takes time for us to heal from pain, whether its cause be physical or emotional. The Tree of Healing reminds us to take time for ourselves, to gather strength from friends and family, and to not lose hope that we will once again be whole and well.
The season of Autumn is a desire for abundance, community and a celebration of where we have been, where we are and where we are going. The Tree of Autumn shows us that it is best when our efforts are shared and nurtured in community.
The Tree of Christmas reminds us that the holidays are a time to have sparkle on your holiday tree, as well as a sparkle in your heart. 
The Tree of Winter shows us that times of rest and introspection bring forth renewal and the knowledge that life's best warmth comes from cultivating love, friendship and family.